Filter Drier for Cap Tube Systems
Superior 3 stage filtration virtually eliminates plugged cap tubes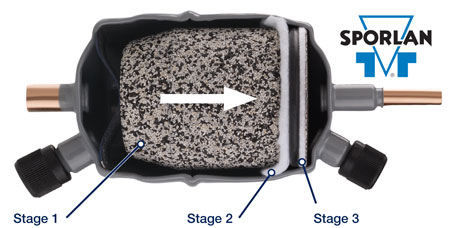 Stage 1 Porous molded Catch-All HH Core filters the vast majority of particles.
Stage 2 10 micron filter to capture all but the finest particles.
Stage 3 1 micron final filter to capture remaining particles.
 Problem
Capillary tubes clog with waxy, resin materials and solid debris in small refrigerating systems. This reduces the system capacity and efficiency,  requiring capillary tubing replacement.
Cause
Waxy, resin materials deposit in the capillary tubing and attract/hold solid debris that reduces the flow area of the capillary tube.
Solution
Porous, molded Catch-All HH Core contains the ideal desiccant blend to capture those resins and waxes, eliminating the "sticky" material before it deposits in the capillary tube.
Uses "3 stage filtration" to capture even the smallest particles of solid debris while maintaining low pressure loss.
Eliminates nuisance call-backs and increases customer satisfaction.
Dual pressure taps allow easy pressure drop monitoring during cleanup.