Refrigeration Technologies Clean & Clear
Condensate Pan & Drain Treatment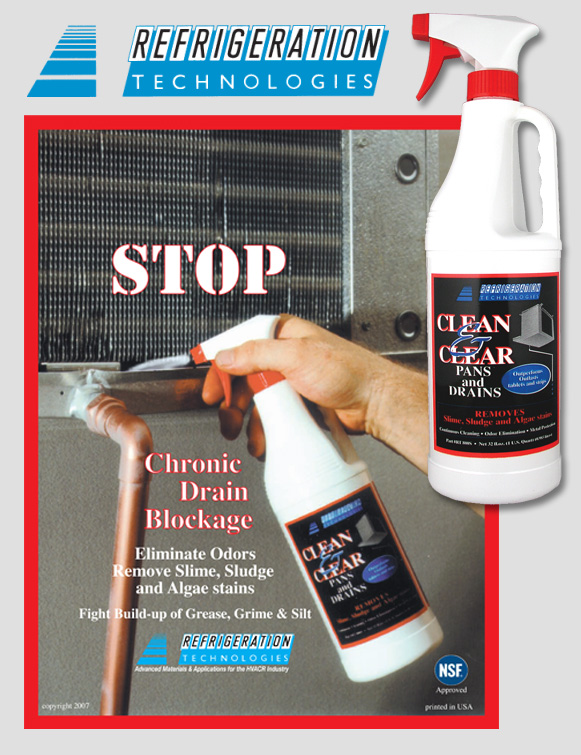 Stop Chronic Drain Blockage
Eliminate Odors
Remove Slime, Sludge & Algae Stains
Fight Build-up of Grease, Grime, & Silt
Description
Use Clean & Clear to prevent Condensate Pan and Drain problems instead of tablets, pads or strips.
Clean & Clear sprays on like water; then reverts to a Silicon Gel immediately upon contact. The Silicon Gel exhibits excellent cling to horizontal and vertical surfaces.
Better Coverage: The entire condensate pan and those hard to reach drain passages can now be spray coated for a more complete cleaning process.
More Effective: The product delivers more concentrated detergent per square inch than can be achieved by slugging the pan with bleach or other one shot cleaning remedies.
Odor Elimination: Clean & Clear instantly removes Slime, Sludge and Algae stains. Contains no Chlorine or pesticides. No VOC, HAPs or TAC.
Prevents Chronic Drain Blockage: The Silicon detergents in CLEAN & CLEAR will dissolve and disperse any grease, grime or sediment build up in the pan and p-trap.
Long Lasting: The Silicon Gel dissolves s-l-o-w-l-y overtime with condensate production for continuous cleaning, odor control and metal protection.