Boss® 334 Minimal Expanding Gun Foam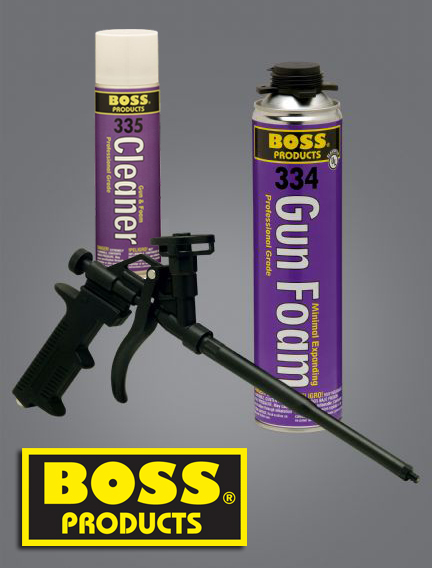 BOSS® 334 Window & Door Minimal Expanding Gun Foam is a one-component, ready to use polyurethane foam, formulated to seal the gap around window and door frame and the rough opening. BOSS® 334 expands to generate an effective seal, and when used properly is proven not to distort or bow window and door frames.
Uses
Installing of window and door frames
Filling of cavities
Sealing of all openings in roof constructions
Creation of a soundproof screen
Mounting and sealing of window and door frames
Connecting of insulation materials and roof constructions
Application of a soundproofing layer on motors
Improving thermical isolation in cooling systems
Features
AAMA 812-04 approved
CFC propellant free
Excellent adhesion on most substrates (except Teflon, PE and PP)
High thermal and acoustical insulation
Very good filling capacities
Excellent mounting capacities
Excellent stability (no shrink or post expansion)
Very precise application due to the foam gun system
Low pressure build, reducing the chance of bowing
VOC Compliant
BOSS® 335 Gun Foam Cleaner
Specially developed to clean the PU foam applicator guns.
A correct cleaning of the gun and the proper use of the product will ensure an optimal function and prevent blockage of the applicator gun.
Suited for cleaning of the valve and spray nozzle of PU foam canisters and removing uncured PU foam.